American Board Of Urology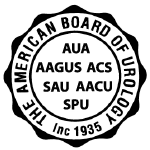 The American Board of Urology
600 Peter Jefferson Parkway, Suite 150
Charlottesville, VA 22911
Phone: (434) 979-0059
Fax: (434) 979-0266
www.abu.org
Maintenance of Certification Part II
Life Long Learning and Self-Assessment Requirements
Complete 90 CME credits relevant to Urology.

30 of the 90 CME Credits are required to be AMA PRA Category 1 Credits™.

Evidence of Self-Assessment is demonstrated by the online completion of a Practice Assessment Protocol (PAP) two times throughout the 10-year MOC cycle.
Featured Activities
#7: AGS Geriatrics Virtual Patient Case: Delirium : Evaluation, Prevention, and Treatment in the Context of a Patient with Altered Mental Status and Urinary Symptoms

American Geriatrics Society

There is a significant shortfall of trained geriatricians to meet the healthcare needs of the older adult population, and older people are likely to need non-primary care from non-geriatrician specialists. The American Board of Medical Specialties (ABMS) and the American Geriatrics Society (AGS) developed the Geriatrics Virtual Patient Cases in order to provide non-geriatrician specialists with guidance on best practices in the care of older adults. This specific case will improve the skills of non-geriatrician diplomates in assessing delirium and recognizing the unique needs of geriatric patients in an inpatient setting.
The requirements and other information provided on this page are determined by each ABMS Member Board and may be subject to change. Please refer to the relevant Board's website to confirm the applicable requirements.