American Board Of Radiology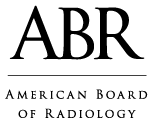 The American Board of Radiology
5441 East Williams Circle
Tucson, AZ 85711
Phone: (520) 790-2900
Fax: (520) 790-3200
www.theabr.org
Maintenance of Certification Part II Lifelong Learning and Self-Assessment Requirements
Complete 75 AMA PRA Category 1 Credits™ every three years.
25 of the 75 AMA PRA Category 1 Credits™ must be Self-Assessment (SA) Credits.
2022 will be the final year that we will require diplomates completing their OLA annual progress requirement to complete self-assessment CME (SA-CME). All diplomates will still need to complete 75 Category 1 CME credits in the previous three-year period, but no SA-CME will be required after 2022.
Featured Activities
Patient Safety Curriculum

National Patient Safety Foundation

The NPSF Patient Safety Curriculum is a 10-module, online course intended to equip the learner with the foundational knowledge necessary to understand the context, key principles, and competencies associated with the discipline of patient safety, and how these tenets and skills are applied to everyday practice. It takes the learner through the history of the patient safety movement, describes the science and disciplines used in this work, presents current best practices, and outlines strategies for overcoming barriers to safe care. The curriculum modules are aligned with educational standards for patient safety competencies and are anchored by didactic audio/PowerPoint lectures given by NPSF board members and members of the quizzes to focus learners on key patient safety principles. This knowledge is imperative for those working in, or in partnership with, the health care system of today.
The requirements and other information provided on this page are determined by each ABMS Member Board and may be subject to change. Please refer to the relevant Board's website to confirm the applicable requirements.