American Board Of Medical Genetics and Genomics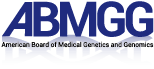 The American Board of Medical Genetics and Genomics
6120 Executive Blvd, Suite 525
Rockville, MD 20852
Phone: (301) 634-7315
Fax: (301) 634-7320
www.abmgg.org
Maintenance of Certification Part II Lifelong Learning and Self-Assessment Requirements
Effective in 2022, the literature review module or equivalent was deleted as this is covered through the longitudinal assessment activity.
Complete one patient safety activity per 3-year cycle.
Effective in 2022, complete 60 AMA PRA Category 1 Credits™ (or equivalent) CME credits throughout each 3-year cycle.

At least 50% of the CME credits must be related to Medical Genetics and Genomics
Featured Activities
American Board of Medical Genetics and Genomics (ABMGG) MOC: Safety Module

American College of Medical Genetics and Genomics

The ABMGG Safety Module is comprised of an in-depth discussion of key, critical topics identified as impacting patient healthcare safety. Each of the topics covered include current references and specific clinical case examples that are relevant to medical genetics and genomics. The cases cover instructive yet challenging situations relevant to both clinical genetics and laboratory genetics and genomics.

Diplomates are required to complete one Safety module per specified timeframe of their ABMGG Continuing Certification MOC program.

One safety module will be posted, it will be available for a 10 year period, and will then be reviewed and updated as needed.

The safety module consists of:

PowerPoint presentation of approximately 85 slides, with references imbedded with each topic area.

Post-reading test – Consists of 6 multiple-choice questions. Responses are scored immediately.
The test may be taken as often as necessary to achieve a passing score of 80% or better. The system does not record the number of attempts. If you do not achieve a passing score on the post-reading test, the program will identify which questions you answered incorrectly so that you can review the module and try again.
The requirements and other information provided on this page are determined by each ABMS Member Board and may be subject to change. Please refer to the relevant Board's website to confirm the applicable requirements.