American Board Of Medical Genetics and Genomics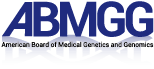 The American Board of Medical Genetics and Genomics
6120 Executive Blvd, Suite 525
Rockville, MD 20852
Phone: (301) 634-7315
www.abmgg.org
Lifelong Learning Requirements
Complete one patient safety activity each 3-year cycle.
Complete 75 AMA PRA Category 1 Credits™ (or equivalent) CME credits throughout each 3-year cycle. At least 50% of the CME credits must be related to Medical Genetics and Genomics
Featured Activities
Improving Patient Safety: An Imperative in Medical Genetics and Genomics

American College of Medical Genetics and Genomics

This course is comprised of an in-depth dialog of key critical topics identified as impacting patient healthcare safety. In this activity, a participant will discover the burden of medical errors on the patient and healthcare system, contributing factors for medical errors, myths regarding patient safety, pathways to reducing errors, communication techniques to improve patient safety, the importance of teamwork in the safety of the patient, identifying adverse events and how to disclose adverse events. Cases cover instructive yet challenging situations relevant to both clinical genetics and laboratory genetics and genomics. This activity allows the participant to assess their comprehension and application of the material presented in the module.
The requirements and other information provided on this page are determined by each ABMS Member Board and may be subject to change. Please refer to the relevant Board's website to confirm the applicable requirements.