American Board Of Obstetrics and Gynecology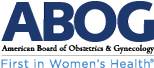 The American Board of Obstetrics and Gynecology
2828 Routh Street
Suite 700
Dallas, TX 75201
Phone: (214) 871-1619
Fax: (214) 871-1943
www.abog.org
Maintenance of Certification Part II Lifelong Learning and Self-Assessment Requirements
Complete 30 practice-relevant journal articles and complete 4 post-assessment questions per journal article. Complete a minimum of 120 post-assessment questions annually. ABOG delivers the journal-based assignments during the first week of January, April and July annually.
Achieve an 80% completion rate on the 120 post-assessment questions (minimum) and submit by due date.
Upon successful completion of the ABOG reading assignments and post-assessment questions, diplomates will earn 25 AMA PRA Category1 Credits™ from ACOG.
Visit Board Website For More Information
The requirements and other information provided on this page are determined by each ABMS Member Board and may be subject to change. Please refer to the relevant Board's website to confirm the applicable requirements.
Specialties & Subspecialties
Female Pelvic Medicine and Reconstructive Surgery
Gynecologic Oncology
Maternal & Fetal Medicine
Reproductive Endocrinology/Infertility