American Board Of Colon and Rectal Surgery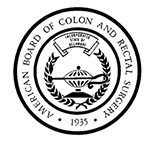 American Board of Colon and Rectal Surgery
20600 Eureka Road, Suite 600
Taylor, MI 48180
Phone: (734) 282-9400
Fax: (734) 282-9402
www.abcrs.org
Maintenance of Certification Part II Lifelong Learning and Self-Assessment Requirements
Complete 90 AMA PRA Category 1 CME Credits™ every five years.
Over a five-year cycle, 50 of the 90 AMA PRA Category 1 Credits™ must include a Self-Assessment Activity.
Featured Activities
#1: AGS Geriatrics Virtual Patient Case: Goals of Care and Shared Decision Making In the Context of Patient with Colon Cancer and Possible Metastates

American Geriatrics Society

There is a significant shortfall of trained geriatricians to meet the healthcare needs of the older adult population, and older people are likely to need non-primary care from non-geriatrician specialists. The American Board of Medical Specialties (ABMS) and the American Geriatrics Society (AGS) developed the Geriatrics Virtual Patient Cases in order to provide non-geriatrician specialists with guidance on best practices in the care of older adults. This specific case will improve the skill of non-geriatrician diplomates in addressing goals of care and shared decision making with geriatric patients.

Safe Means of Administering the Right Therapy Extended Release and Long Acting-Opioids - Get SMART ER/LA

Johns Hopkins Medicine

The FACTS 1.9 million Americans meet the criteria for opioid use in 2015 (CDC) 44 people die every day from opioid misuse (CDC) Many states already require opioid education, and the FDA is considering a national education mandate. Extended-release/long-acting (ER/LA) opioids are essential to treat many patients' chronic pain but must be prescribed safely. Refresh or update your knowledge of optimal opioid therapy with our new CME/CE/MOC program, Get SMART (Get a Safe Means of Administering the Right Therapy). Six engaging modules provide key information with quick quizzes, videos, and more, for up to 3.0 CE credit hours/MOC points total: Assessing patients for treatment with ER/LA opioids Evaluating and initiating opioid therapy Managing opioid therapy Counseling patients and caregivers about safe opioid use Up-to-date drug information about ER/LA opioids.
The requirements and other information provided on this page are determined by each ABMS Member Board and may be subject to change. Please refer to the relevant Board's website to confirm the applicable requirements.