American Board Of Colon & Rectal Surgery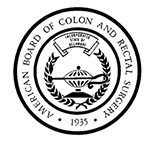 American Board of Colon and Rectal Surgery
20600 Eureka Road, Suite 600
Taylor, MI 48180
Phone: (734) 282-9400
Fax: (734) 282-9402
www.abcrs.org
Maintenance of Certification Part II Lifelong Learning and Self-Assessment Requirements
Complete 90 AMA PRA Category 1 CME Credits™ every five years.
Over a five-year cycle, 50 of the 90 AMA PRA Category 1 Credits™ must include a Self-Assessment Activity. CARSEP or SESAP are recommended; however, any accredited CME activity that provides AMA PRA Category 1 credits™, and a Self-Assessment component (with a passing score of greater than 75%), will be accepted for MOC Part II Self-Assessment.
Featured Activities
Colorectal Cancer Screening: New Guidelines, New Options

Louisiana Medical Mutual Insurance Company (LAMMICO)

In June 2016, the US Preventive Services Task Force issued a new recommendation for colorectal cancer screening of eligible adults by any of 7 methods, from endoscopy to CT colonography to stool or blood tests. Colonoscopy has been considered by many to be the gold standard for screening, but there are significant barriers to it, and approximately one-third of eligible individuals have never been screened. Physicians and nurses will do well to become conversant with the new USPSTF guideline, as well as the guideline of their own specialty society, the better to advise their patients.

Running on Empty? Physicians' Path to Enjoying Life and Medicine More

Massachusetts Medical Society

Physician "burnout" is an epidemic in the US. Physician's face obstacles, such as meeting regulatory and legislative demands, understanding health insurance plans and policies, non-compliant patients, and more, on a daily basis that impact their wellness and personal life, which can often lead to "burnout". More than half of US physicians have measurable symptoms of burnout – emotional exhaustion, depersonalization and reduced perception of personal accomplishment. The rates have soared in recent year, and it's worse for physicians in many specialties, particularly internal medicine, critical care, and emergency and family medicine Physician's and their staff need to be able to identify factors that add stress, understand existing resources to utilize, and delegate time to address these obstacles. Physicians also need to realize their mental and physical well-being is crucial in order to provide quality care to their patients. These needs are caused by competence and performance gaps.

Safe Means of Administering the Right Therapy Extended Release and Long Acting-Opioids - Get SMART ER/LA

Johns Hopkins Medicine

The FACTS 1.9 million Americans meet the criteria for opioid use in 2015 (CDC) 44 people die every day from opioid misuse (CDC) Many states already require opioid education, and the FDA is considering a national education mandate. Extended-release/long-acting (ER/LA) opioids are essential to treat many patients' chronic pain but must be prescribed safely. Refresh or update your knowledge of optimal opioid therapy with our new CME/CE/MOC program, Get SMART (Get a Safe Means of Administering the Right Therapy). Six engaging modules provide key information with quick quizzes, videos, and more, for up to 3.0 CE credit hours/MOC points total: Assessing patients for treatment with ER/LA opioids Evaluating and initiating opioid therapy Managing opioid therapy Counseling patients and caregivers about safe opioid use Up-to-date drug information about ER/LA opioids.
The requirements and other information provided on this page are determined by each ABMS Member Board and may be subject to change. Please refer to the relevant Board's website to confirm the applicable requirements.