American Board Of Colon & Rectal Surgery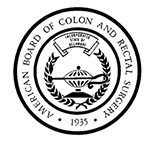 American Board of Colon and Rectal Surgery
20600 Eureka Road, Suite 600
Taylor, MI 48180
Phone: (734) 282-9400
Fax: (734) 282-9402
www.abcrs.org
Maintenance of Certification Part II Lifelong Learning and Self-Assessment Requirements
Complete 90 AMA PRA Category 1 CME Credits™ every five years.
Over a five-year cycle, 50 of the 90 AMA PRA Category 1 Credits™ must include a Self-Assessment Activity. CARSEP or SESAP are recommended; however, any accredited CME activity that provides AMA PRA Category 1 credits™, and a Self-Assessment component (with a passing score of greater than 75%), will be accepted for MOC Part II Self-Assessment.
Featured Activities
IHI Open School - Quality Improvement Curriculum - How to Improve with the Model for Improvement

Institute for Healthcare Improvement

The goal of every health care provider and organization is to provide safe, timely, equitable, effective, efficient, and patient-centered care. But how can that hopeful statement become a reality? Explore this suite of courses to learn how to apply the science of improvement – which includes aims, measures, and Plan-Do-Study-Act (PDSA) cycles – to make positive changes within the systems in your local setting. You'll also learn about the psychology of change, and why introducing new ideas and processes often take time, patience, and creativity.

IHI Open School - Faculty Development - Why Engage Trainees in Quality and Safety?

Institute for Healthcare Improvement

Medical residents are often the eyes and ears that witness the deficiencies in the systems that provide care. Do they have the knowledge, skills, and time to improve those systems in your organization? This suite of one-lesson courses provides a step-by-step guide to embedding quality and safety into your residency training. With education about the Clinical Learning Environment Review (CLER) program, practical examples of successful programs, and an experiential learning opportunity, these courses will help you equip the next generation of physicians with skills to improve health care.
The requirements and other information provided on this page are determined by each ABMS Member Board and may be subject to change. Please refer to the relevant Board's website to confirm the applicable requirements.