American Board Of Allergy and Immunology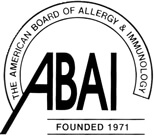 American Board of Allergy and Immunology
1835 Market Street, Suite 1210
Philadelphia, PA 19103
Phone: (215) 592-9466 or (866) 264-5568
www.abai.org
Lifelong Learning Requirements
Attest to 25 allergy/immunology CME credits per year
Complete a patient safety module once every ten years.
The requirements and other information provided on this page are determined by each ABMS Member Board and may be subject to change. Please refer to the relevant Board's website to confirm the applicable requirements.