American Board Of Allergy and Immunology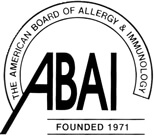 American Board of Allergy and Immunology
1835 Market Street, Suite 1210
Philadelphia, PA 19103
Phone: (215) 592-9466 or (866) 264-5568
www.abai.org
Maintenance of Certification Part II Lifelong Learning and Self-Assessment Requirements
Complete 25 AMA PRA Category 1 CME credits™ annually.
Complete a communication module once every 10 years.
Complete a patient safety module once every 10 years.
Featured Activities
Safe Steroid Use: A Self-Assessment Module

American College of Allergy, Asthma & Immunology

This self-assessment module is designed to help practicing allergy/immunology providers obtain new knowledge, as well as reaffirm existing knowledge. It also helps allergists/immunologists evaluate and maintain their clinical competence. The module consists of 30 case-based, multiple-choice questions. Comprehensive discussions provide evidence-based explanations regarding all answer options, as well as provides supporting references from the current literature. The questions address four areas of safe steroid use, including: Optimal Dosing, Side Effects–Prevention and Treatment, Adverse Reactions, and Patient Management.

Patient Safety Curriculum

National Patient Safety Foundation

The NPSF Patient Safety Curriculum is a 10-module, online course intended to equip the learner with the foundational knowledge necessary to understand the context, key principles, and competencies associated with the discipline of patient safety, and how these tenets and skills are applied to everyday practice. It takes the learner through the history of the patient safety movement, describes the science and disciplines used in this work, presents current best practices, and outlines strategies for overcoming barriers to safe care. The curriculum modules are aligned with educational standards for patient safety competencies and are anchored by didactic audio/PowerPoint lectures given by NPSF board members and members of the quizzes to focus learners on key patient safety principles. This knowledge is imperative for those working in, or in partnership with, the health care system of today.

COVID-19 Update March 2020

JAMA

Coronavirus testing, mortality, vaccine development, containment vs mitigation, and more. Anthony S. Fauci, MD discusses the latest developments in the global spread of COVID-19 and the SARS-CoV-2 virus with JAMA Editor Howard Bauchner, MD.- What's the difference between COVID-19 and SARS-CoV-2? (01:15)- What's the status and accuracy of diagnostic testing in the US? (01:58)- What's the case-fatality rate for the virus? (05:31)- Scientific advances and vaccine development (25:06)- Are current clinical trials providing a picture of treatments? (13:41)- Risk communication: how do we present information so there's faith that it's accurate? (15:24)- Risk groups (children, the elderly, pregnant women) (16:26)- Containment vs mitigation vs quarantine vs isolation (19:10) – Protecting the elderly and nursing home resident (23:52)- Public health prospects in Latin America, Africa (26:35)- Will coronavirus wane in warmer months like influenza? (27:52)- Why is anxiety so high about this disease?- Does the US have capacity to care for COVID19 infection? (31:03)- What is your daily schedule like? (32:23).

Disclaimers
1. This activity is accredited by the American Medical Association.
2. This activity is free to AMA members.
The requirements and other information provided on this page are determined by each ABMS Member Board and may be subject to change. Please refer to the relevant Board's website to confirm the applicable requirements.